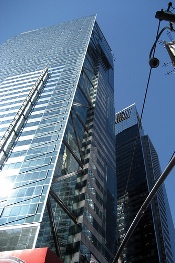 CB Richard Ellis is out this morning with a release on the 15-year, 100,000-square-foot lease it arranged for law firm Pryor Cashman at Boston Properties' Times Square Tower (a.k.a. 7 Times Square). My colleague Dana Rubinstein reported the deal on Nov. 18.
The way things are going, this will surely be one of the last big leases of 2008.
CBRE's take below:
New York, NY – November 24, 2008 – In yet another large office transaction signed in the Manhattan market this month, CB Richard Ellis announced today that it arranged a 15-year, 100,000-square-foot lease at 7 Times Square. Law firm Pryor Cashman will occupy space in the building in mid-2009. Boston Properties is the landlord. CBRE represented both sides of the transaction.
"Pryor Cashman is relocating to a practically new, move-in ready space at the top of one of Midtown's trophy buildings, consolidating from a current facility spread across three older, interconnected buildings," said Mark Ravesloot, executive vice president, CBRE, who arranged the lease with Lewis Miller, vice chairman; Jason Gorman, senior vice president, and Mike Wellen, vice president.
Boston Properties, represented by the CBRE team of John Powers, chairman; Peter Turchin, executive vice president, and Christie Harle, senior financial analyst, was pleased to sign a strong law firm tenant in a transaction that came together in less than a month.
Upon its move, Pryor Cashman will occupy the entire 39th, 40th and 41st floors, as well as almost half of the third floor at 7 Times Square, which is located at the crossroads of Broadway and Seventh Avenue and West 41st and 42nd Streets. The firm is currently located at 400 and 410 Park Avenue, which are joined, as well as in Herron Tower at 70 East 55th St. The new space is approximately 10,000 sf larger, allowing for future growth.
The Pryor Cashman lease follows on the heels of two other large deals CBRE brokered recently. Media giant Viacom signed a 1.3-msf extension at 1515 Broadway, the third largest lease ever in Manhattan and the largest office lease of 2008. Also, Mercedes-Benz USA is replacing its existing flagship dealership with a new, 332,982-square-foot retail/office facility at 770 11th Avenue. CBRE represented Viacom and Mercedes-Benz USA in the transactions.