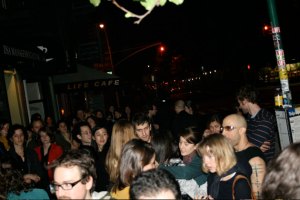 Above, Friday night in the East Village outside Plan B, where Farrar, Straus & Giroux and LitMob.com co-hosted a book party for 2666, the highly anticipated new novel from late Chilean author Roberto Bolaño.
Trouble was, no one at FSG thought to make a guest list, so every little culture worker in New York showed up expecting to get in. And none of them came fashionably late: the party officially started at 8 p.m., and according to several attendees there was a line stretching around the corner by 8:30.
FSG editor Lorin Stein, one of the evening's organizers, started bracing himself for an overcapacity crowd early in the day. "This is going to the most chaotic fucking book party ever thrown," Mr. Stein wrote in an e-mail. "You can put that in the bank. It will make all other book parties look like fucking well-oiled teutonic machines; and it will furthermore raise the question why it should be in the least bit difficult to establish and preserve a *guest list* like every other fucking publisher, in the history of time, who ever put together a party to launch a book. Something which simply DID NOT OCCUR TO ME. Because I AM AN IDIOT."
Mr. Stein told Media Mob this morning that he and a few assistants went outside when they realized how long the line was and sold copies of 2666 to the people waiting. "It was awkward seeing friends whom one couldn't let in," Mr. Stein said. "There was a delegation from Media Bistro who got very annoyed. I tried to help, but I think it was too late."
He said also: "Apparently some kids kept asking where Bolano was. They wanted to meet him. Which is rather sweet, no?"
Related: Jonathan Lethem apparently felt old while he was standing in line. Same with the literary agent Elyse Cheney, who you can see on the left in the photo above.
Also in the photo: Jon-Jon Goulian, who all but disappeared from public life earlier this year when Random House agreed to pay him lots of money to write a memoir. He's the one with the tattoos and the sunglasses on the right, next to all the ladies.