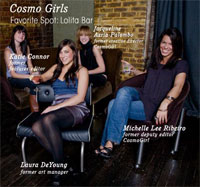 In what is perhaps one of the most dissonant press releases Media Mob has gotten in a while, a press representative from Time Out New York is touting the magazine's Where Laid-Off Workers Go To Drink spread.
Asks the flack:
What happens when you show up at your gig at
Radar
only to find the magazine's folded? Or if Nick Denton unexpectedly boots you from your blogging duties? What would you do if your days at CosmoGIRL came to a screeching halt?
If you're one of the unfortunate hundreds who lost their media job this month, then the answer is simple: You drink.
The spread features staffers from Hearst's shuttered CosmoGirl drinking at the questionably named (at least for a teen magazine) Lolita Bar; a handful of ex-Radar employees sharing a few at Marshall Stack; and Urbane Tomboy and one-time Gawker writer Moe Tkacik endorsing Scratcher.
Let's hope there's room at those bars, since this town is suddenly full of unemployed media workers, some of whom might even be owed a check or two by Time Out: In September, Gawker's Hamilton Nolan wondered Can Time Out New York Pay Its Bills?