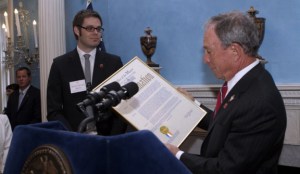 Organizers announced today that Internet Week New York will take place from June 1 to June 8 next year. This will be the second year for the event and, in 2009, the Metropolitan Pavilion in Chelsea will serve as the official headquarters. Hey, geeks,  rejoice (and feel the hangover)! Internet Week New York is presented by the International Academy of Digital Arts and Sciences in cooperation with City of New York and The Mayor's Office of Film, Theatre & Broadcasting. This year, they are partnering with  Time Warner, Tumblr, Google, the New Museum, Columbia Business School, NY Tech Meetup and The Webby Awards for various events.
Maybe this year Mr. Bloomberg will mention more New York-based Internet companies (you know, besides "Facebook" and "Google") in his kickoff speech…
More from the press release:
"The city's first Internet Week reaffirmed New York City's global leadership in online commerce, media and culture, and today that leadership is more valuable to the nation and city than ever before," said New York City Mayor Michael Bloomberg. "New York City's internet industry is well-positioned to play a critical role in strengthening and revitalizing our economy. It also breeds the kind of entrepreneurial spirit that has always been the key to New York's economic resilience."
Space at Metropolitan Pavilion will be available for companies to program talks and presentations around daily themes that explore the latest trends in entertainment, Internet culture, design, and business. In addition, organizers expect hundreds of events, from conferences to parties to exhibitions, to be hosted citywide.
Companies who wish to participate as official partners at either Internet Week New York's Headquarters or at venues of their choosing should visit http://www.internetweekny.com for information. All participating organizations will have their events showcased and promoted as Internet Week New York Official Event Partners.
"We're excited to broaden the open-source nature of Internet Week in 2009" said David-Michel Davies, chairman, Internet Week New York. "The addition of a centralized, community-programmed headquarters will make it easier for companies big and small to share ideas and to facilitate discussion across our diverse and innovative industry."