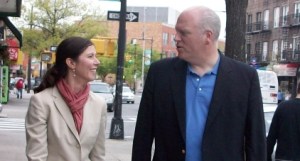 Liz Crowley, who defeated Republican City Councilman Anthony Como of Queens earlier this month, got a tour of the Council side of City Hall today from one of the speaker's top aides, Ramon Martinez.
Crowley ousted Como after he had been in office only months, having been voted in by a special election last June to replace former Council member Dennis Gallagher, who was convicted of sexual assault.
The new Democratic Councilwoman could also be facing a short term–she's up for re-election next year.
Martinez walked Crowley into the Council Chambers, where a committee meeting was being held, and then next door, where yet another committee meeting was taking place.
Afterward, I spotted Martinez holding Crowley's coat and running to put it in a closet downstairs while she mingled with a few people in the chambers.
Crowley won't get to start working as a member until January, when Como's current term finishes.