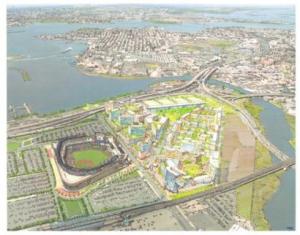 The city's Economic Development Corporation just announced another deal with a major landowner at Willets Point, the 62-acre Queens industrial site the Bloomberg administration wants to redevelop. The landowner was Feinstein Iron Works, which owns a 36,000-square-foot lot. With the agreement, the Bloomberg administration now controls about 25 percent of the private land on the site, though more than 60 landowners are without deals.
The City Council must vote on a proposed rezoning by Thursday; however, as of yesterday evening, the administration had yet to commit to a level of below-market rate housing that's satisfactory to affordable housing advocates.
The biggest private landowner, Tully Construction, does not have a deal and is viewed as the largest obstacle to Council approval.
Release below.
NYC ECONOMIC DEVELOPMENT CORPORATION REACHES ACQUISITION AND RELOCATION AGREEMENT WITH FEINSTEIN IRON WORKS AT Willets Point
Relocation Will Allow for a Planned Expansion of the Business; City Now Controls About 47% of 62 Acre Site
New York City, November 11, 2008 – New York City Economic Development Corporation (NYCEDC) today announced that it has signed a property acquisition agreement with Feinstein Iron Works, Inc, a landowner at Willets Point, Queens. The agreement for the 36,007 square foot property along with previously announced acquisitions and the 14 acres of public streets owned by the City, brings the total amount of land the City now controls at Willets Point to nearly 47 percent.
"Today's agreement with Feinstein Iron Works, a prominent Willets Point business, reflects the City's determination to reach fair deals with as many of the existing businesses and landowners as possible. Along with the seven acquisitions announced Sunday and those that preceded them, we are making significant progress towards transforming the blighted Iron Triangle into New York City's next great neighborhood," said NYCEDC President, Seth W. Pinsky. "As a result of our successful negotiations the City now controls about 29 acres of land at Willets Point and we will continue to pursue fair deals with the remaining businesses."
As part of the agreement Feinstein Iron Works, Inc. will relocate to a new site in Queens that will accommodate an expansion that is not possible at their current location.
The City has now reached agreements with Willets Point landowners controlling approximately 645,795 square feet, or about 15 acres of formerly private land. NYCEDC continues to work to reach additional agreements before and after the City Council's vote this month at the conclusion of the Uniform Land Use Review Procedure (ULURP). Most agreements are contingent on ULURP approval of the Willets Point Development Plan.
Under the City's redevelopment plan, the 62-acres at Willets Point will be transformed from a highly contaminated, blighted industrial area into an exciting mixed-use community that will include housing, restaurants, stores, parks and a school. The project will provide 18,000 construction jobs and more than 5,000 permanent jobs. NYCEDC has also been engaged in active relocation negotiations with many businesses of all sizes since announcing its redevelopment plans.