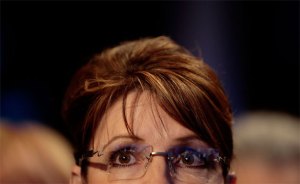 And now the fun part begins.
The New York Times' Elisabeth Bumiller has an A1-promoted story headlined Internal Battles Divided McCain and Palin Camps, in which she reveals all about the Republican candidates' failed bid for the White House. This comes a day after Newsweek broke new ground on the Governor's campaign trail spending spree and Carl Cameron told FOX News (FOX News!) that the woman New York Times columnist Bill Kristol favorably compared to Andrew Jackson didn't know what countries were in NAFTA or that Africa is a continent. (This clip comes via Andrew Sullivan.)
Ms. Bumiller's Times article has some details about the McCain and Palin teams' relationships with her colleague, Mr. Kristol, but here's an interesting section about Governor Palin's disastrous interview with CBS Evening News' Katie Couric in September:
The McCain camp was further upset about Ms. Palin's interview with Ms. Couric, which was broadcast at a time when Ms. Palin was meeting with foreign leaders at the United Nations and trying to establish some foreign policy credentials. Ms. Palin's wobbly and tongue-tied performance was mocked in an iconic impersonation on 'Saturday Night Live' by Tina Fey.
Ms. Palin, who had prepared for and survived an initial interview with Charles Gibson of ABC News, did not have the time or focus to prepare for Ms. Couric, the McCain advisers said. 'She did not say, "I will not prepare," ' a McCain adviser said. 'She just didn't have a bandwidth to do a mock interview session the way we had prepared before. She was just overloaded.'
There's also a bit about how the Governor found herself on the receiving end of a prank phone call by Canadian radio hosts claiming to be French President Nicolas Sarkozy.