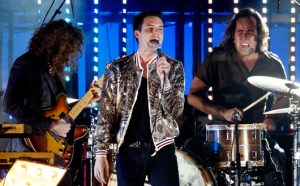 The Killers' latest, Day & Age, out today, was rumored to be a more stripped down affair than we've yet seen from the band. There was to be less glitzy new wave than on their unrelenting 2004 debut, Hot Fuss, and less brooding Americana-tinged arena bluster than on 2006's uneven Sam's Town. Well, sorry, wrong on both counts.
Instead of the lean approach, Day & Age bundles the disparate elements the band has toyed with to date, piggybacking earnest rootsiness right on top of glitzy dance-pop. The weird thing is, in the album's best moments, it works. If anything, the new material displays a band that knows it's a big deal and can summon tuneful bravado in a snap.
So here, finally, slick populism feels more like confidence than a compilation of stolen postures. That doesn't make the Killers any less overblown or overdramatic, and certainly doesn't make Brandon Flowers' trite lyricism any less disposable (the alien abduction narrative "Spaceman" vacillates between outright cliché and wha? sentiments like "They say the Nile used to run from East to West"), but there's a distinct shift in how the songs hit, right from the start.
The album opens with a thrilling trio, where the Killers put forth their very best hooks, riffs, and atmospherics, along with plenty of existential angst, especially on the winning "Human" which asks, as a kind of overarching question for the dance-pop heavy album, "Are we human / Or are we dancer?" It could be a query about the band's worth.
Is the band a manufactured dance-rock robot, or is it capable of something more warm-blooded and stirring?
The warbly hum that starts or ends each of these first songs, the warm throb of OMD, the Human League, and of course Joy Division, would seem to suggest the rise of the machines. On occasion this blood-in-your-head tone returns throughout the album as a bassline, a keyboard touch, but for every dash of New Order that speaks to taste, there's a tinge of tired mid-American mythos or wonky lounge-otica peeking in, suggesting, to borrow a phrase from dancer/robots Daft Punk, that we are human after all.
Blame the hefty synthpop touchpoints on formidable disco-house producer Stuart Price (aka Thin White Duke, Jacques Lu Cont), who never met a Pet Shop Boys club mix he didn't love. He keeps even the more down in the mouth tracks thumping with ethereal drones, and suffuses nearly everything with epic, synthy string sections.
After the opening salvo comes the worldly midsection. The tepid sax-driven pseudo-Caribbeanismo of "Joy Ride" sounds like Jim Morrison fronting Culture Club. Writing a song about the existential angst presented by a night in Vegas (the band's hometown) simply can't help but feel unutterably shallow, but it's not exactly unfunky. A chugging rhythm and faux-African touches mark "This Is Your Life," while "I Can't Stay" seems to take more cues from the cheeseball lounge culture of the band's native land (to say nothing of the steel drums).
The real turn from pure saccharine dance fodder comes with "A Dustland Fairytale," packed with images of broken-down American dreams, and forced sky-high in echo, orchestral swells, and aimless piano plonking. You can almost see Flowers strutting the stage, waving a ragged flag, pouting his best Bono pout. But that is to say it nearly reaches Red Rocks-ian heights of pathos.
The throwaway of "Neon Tiger" and the failed New Order of "The World We Live In" set up woozy, horn-blasted closer "Goodnight, Travel Well" to be somewhat of a heartening capitulation, and it's here you realize that what the band hasn't sacrificed in sonic kitchen-sink-ness, it has achieved in brevity. The songs may be self-indulgent, but they sure are compact, and this makes the rotten ones from stinking too much and keeps the ripe ones from going rotten.
But back to that early human/dancer conundrum. Day & Age may be a bit of a robot, but a tearful one that asks "what does it feel like to love?" In the end it's more Alphaville's "Forever Young" than Gary Numan's "Are Friends Electric?" Though of course heaven knows a whole lot more proms were soundtracked with the former.