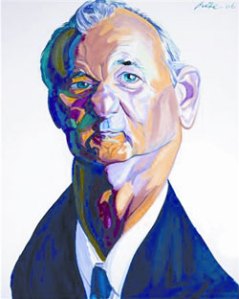 Even over the phone, Philip Burke's voice radiates an empathy you wouldn't necessarily expect from an artist famous for his celebrity caricatures. Asked about his greatest strength as an artist, he keeps it simple and direct: "I think it's my ability to feel a person's life."
To see what he means, consider his Observer cover illustration of Hillary Clinton, decked out in the full regalia of Queen Elizabeth I. It's Hillary as icon, sure, but look closer and you'll see it's Hillary as human, too: She emanates power, isolation, suspicion even of those who claim to worship her. The longer you look at her, even on pink newsprint, the more complex and contradictory she seems.
Mr. Burke, 50, accomplishes this depth, so unusual for commercial illustration, by combining oil-painting techniques derived from the masters—he cites Van Gogh as the inspiration for his signature color sense—with short but intense periods of research. "I always try to spend as much energy as possible studying my subjects," he says. "YouTube is really great—I work well when I see the person speaking or in action."
Of the 33 paintings currently on display in his first New York City solo show, at Antiquorum, he singles out his portrait of Bill Murray as one he's most proud of: Face lit strongly from the right, darkly obscured on the left, the portrait succinctly captures Mr. Murray's melancholic public persona. But there's something else here: a sense of richness, of real physical presence, that only a skilled oil painter can evoke. "You can almost hear him talking," Mr. Burke said with satisfaction.
Self-taught, Mr. Burke arrived from Buffalo in New York City in 1977 at the age of 19 with the idea of going to art school at Parsons or Cooper Union. Once he arrived, though, he decided it was better to take the DIY approach, visiting magazines and newspapers with his drawings. His first steady work came from The Village Voice, where his stock in trade was pen-and-ink caricatures with a hard political edge in a style influenced by David Levine and Ralph Steadman—"my angry young man period," as he now thinks of it. From there he began a rapid ascent through the ranks of New York illustrators, winning his first New York Times Book Review cover assignment in 1978.
By 1983, he was under exclusive contract with Vanity Fair, where he made the change from ink to oil paint. Good money and guaranteed national distribution of his work: Things were looking good for the 25-year-old Mr. Burke, though, surprisingly, that's precisely when he made his exit from New York City. "I left because I met a woman," he says, "who wouldn't come to New York." The gallant Mr. Burke decamped with his future wife to Niagara Falls, N.Y., where they still live and work today.
As it turned out, the move to Niagara Falls precipitated a breakthrough in Mr. Burke's style, and also in his outlook on life. There, with the encouragement of his wife, he became a devout practitioner of a school of Buddhism called Nichiren Shoshu.
"In my earlier work I was angrier and more political; I was going for the jugular," he says. "But when I started practicing Nichiren Shoshu, I became fearless. Now when I paint someone, I'm trying to capture a part of that person's life and humanity. I'm trying to create something where you see some part of yourself." Indeed, the extent to which Mr. Burke is unfazed by the habitual cynicism of the celebrity culture his work so cleverly comments on is remarkable. "I'm trying to reflect something deeper about the human condition," he said. "This person I'm painting may be famous, but in reality they're no different from me. There's a sense in which we share the same life."
I took Mr. Burke's ideas with me to a second viewing of his show at Antiquorum, and began to see other stories at work in his illustrations: I saw the iconography of celebrity in historical perspective—Bob Hope raises his eyebrow in a gesture of complete control over his media image; Kurt Cobain peers out hysterically from an image he seems neither to control nor want. And I saw images that assumed (sometimes against all available evidence) the humanity of their celebrity subjects—which is closely connected to the promise of Mr. Burke's art: a rich, accessible visual culture that takes for granted the humanity of the people it's created for.
"When I think about the future," Mr. Burke said of where he's headed, "I think about the freedom to do more personal work, something more classic, as in Modigliani or Van Gogh. And in terms of where that work would lead"—he thinks a moment—"I can't even picture it."
"Philip Burke: Face Nation" is on view at Symbolic NYC @ Antiquorum, 595 Madison Avenue, Fifth Floor, until Dec. 13. The gallery is open Tuesday through Saturday, from 10 a.m. to 6 p.m.
ddacosta@observer.com