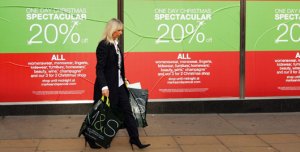 In slumping economic times, the good news is that sales are omnipresent, starting weeks, even months, early, and continuing indefinitely. The week before Thanksgiving, nearly all of Fifth Avenue was already on 40 percent markdown—and that's just what was advertised in the windows (many luxury retailers are quietly marking down entire inventories even more drastically for "friends and family").
The bad news is that with recession sales come recession salespeople.
"Oh my gosh, I feel like I am being attacked when I walk down 57th Street," said Stacey Bendet, owner and designer of Alice + Olivia. Recently, she said, "I walked into Dior and felt like honey in a swarm of bees."
Diana Petroff, 34, who owns her own PR firm, agreed. "I was at Bergdorf's and was shocked to see how much merchandise is on sale early in the season," she said. "The walls were dripping with clothing stacked like sardines on floor five—and there was hardly any foot traffic. … I've never had so much attention in my life from a salesperson! I popped into Chanel on the main floor, and even before I set foot onto their section, a salesgirl ran up to me and wanted to show me each and every bag!"
Over the years, Manhattan shoppers have come to expect a certain indifference, or even hostility, from in-store staff; arguably, it added to the cachet of high-end boutiques, the feeling that one was shopping somewhere truly exclusive and desirable. Suddenly the shoe is on the other foot.
"Salespeople are everywhere," said Aja Robinson, 27, who was perusing a wall of belts recently at the Gucci flagship on Fifth Avenue during a red-carpet cocktail party hosted by songstress Rihanna (yet another tactic stores are employing to lure customers). Ms. Robinson said the attention didn't bother her. "I think shopping has actually gotten better, because of the sales."
Ms. Robinson's friend Khalilah Williams-Webb, also 27, wore a green felt top hat and black leather leggings and said she comes to Gucci at least once a week in her capacity as stylist for clients like NBA player Carmelo Anthony and MTV VJ LaLa Vazquez. She knows most of the salespeople wherever she shops, and they have lately been alerting her to special bargains. "A lot of people are having private sales," she said, indicating her purple Sergio Rossi stilettos. "Please, Gucci's never going to stop getting customers," she said breezily, disagreeing that retailers were at all desperate. "Even the brokest person, they're always gonna want to come in here."
Others are less sanguine: "I walked into the Kate Spade store in search of a high-heeled black pump I'd seen in the window and was so turned off by the saleswoman's friendly (desperate?) come-on that I turned right on my heel and left," sniffed one statuesque Park Slope mother via email. "Did a complete 180. It's not her fault … but that's just not the kind of attention I want. It's anti-New York."
The weary mom noted also an annoyingly forced "Girlfriend, I Need My Jimmy Choos Now!" attitude—"so 1998"—embodied by the friendly clerks at Designer Shoe Warehouse, promoting a $199 markdown madness in mid-November. (We might suggest she try Saks Fifth Avenue's shoe department, 10022-SHOE, which after a recent early reduction was filled with crazed, competitive women stalking stunned-looking, overworked salesmen.)