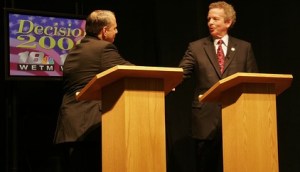 ALBANY—Representatives from the each camp in a central New York Congressional race have begun re-canvassing voting machines in the close election.
Unofficial tallies released after the election showed that Democrat Eric Massa was running about 4,300 votes ahead of Rep. Randy Kuhl, who has held the seat since 2004 and won a narrow victory over Massa, a retired naval commander, in 2006.
Jared Smith, a spokesman for the Massa campaign, said that a re-canvass began today with representatives from each camp present. Kuhl filed an injunction, which Smith said will delay a recount of some 11,000 absentee ballots until after a court hearing Wednesday.
"I think we will have it all solved shortly."
While Kuhl has not conceded the race, Massa has begun to act like a congressman. He visited a local middle school for Veterans Day and will attend an orientation session for new freshman House members later this week in Washington, D.C.
Tom Reed, the Republican mayor of Massa's home city of Corning, said he looked forward to working with him when asked about the race at the Conference of Mayors this morning.
"They're still counting the votes, but it seems pretty clear to everyone that Eric Massa won the competition," Reed said. He said he hopes the new representative will act with a sense of bipartisanship.