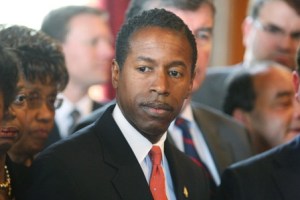 ALBANY—Democrats taking a majority in the State Senate after 40 years of languishing under Republican control have been talking about reforming the committee system and making the chamber more open. But the talk of reform stops cold when it comes to legislative redistricting.
"At this point, it's too early to be thinking about it," said Selvena Brooks, a spokeswoman for Majority Leader Malcolm Smith. "We're focusing now on transitioning into the majority."
This isn't all that surprising. Nor is the fact that the Senate Republicans, now reduced to a minority, 30 of the chamber's 62 seats, are exhibiting a life-or-death desperation about the prospect of winning the next election, or of flipping two Democrats in time for the next redistricting process.
"Probably the 2010 election will be the most crucial election in reference to protecting the balance of power in New York," Jasper Nolan, chairman of the Saratoga County G.O.P., said in a recent interview. "It means that we may have to go to court and do our fight there in the sense of one man one vote. They'll certainly be gerrymandering to lock in some of their favorite senators and assemblyman, but it's too early to know."
Of all the plums that come with being in the majority—bigger offices, more staff, setting the floor calendar—the ability to redraw the districts for all of the members of the body will be the sweetest and most significant of all for the Democrats, assuming they can hold on for two years.

Not only will they be able to tighten their tenuous hold on the majority, strengthening their own incumbents and turning safe Republican districts into toss-ups, but with Democrats in control of all three branches, they'll be able to redraw Congressional lines to make life that much tougher for New York's dwindling number of Republican representatives.
"I don't think anyone makes any bones about the fact that districts are drawn to favor the majority party," said Bob Ward, deputy director of the Rockefeller Institute and author of the book New York State Government: What it Does and How it Works. "Typically each house will put together its own plan and essentially end up ratifying the plan that the other house has put together, and there will be some sort of agreement about what will happen with congressional seats."
In the past, that has led to a basic détente between the Democrat-dominated Assembly and the Senate, which was controlled by Republicans for all but one year over the past seven decades. Planners in each house would draw district lines to reinforce a vulnerable incumbent with more enrolled partisans or voters of a certain ethnic group or level of wealth. There are few stipulations: District lines are drawn every 10 years, based on the latest census. Districts must be contiguous. A U.S. Supreme Court ruling in 1964 mandated seats be apportioned on an equal population basis – not one per county, as had previously been the case. And districts in some parts of New York City must comply with the Voting Rights Act, which was drafted to protect the rights of racial and ethnic minority groups.
That has led to some funny-looking lines, including one 51st Senate District which was derided as "Abraham Lincoln riding on a vacuum cleaner."
Good-government groups have long sought a more independent system – one in which the task force that develops district lines does not report directly to the legislature.
Malcolm Smith has in the past expressed support for such an idea, but advocates of reforming the process accuse him of backing off his position after coming under pressure from Democrats in Congress.
Don't look for him or his newly empowered members to rediscover their enthusiasm for independent redistricting anytime soon.