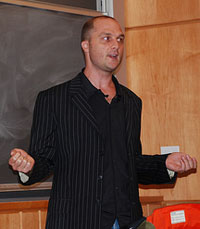 Nick Denton published a screed today that warned media bosses, small and large, that the worst has yet to come. "From conglomerates to internet ventures, executives should be planning now on a decline of up to 40% in advertising spending during this cycle," he wrote. "Instead they're sleepwalking into economic extinction—even those lean online ventures which were supposed to take up the mantle and preserve New York's position as a media capital."
And Mr. Denton has put his words immediately into action. He's told us that Consumerist, his buyer self-defense blog, is up for sale.
In other news! The Gawker Media managing editor, Noah Robischon, is taking a job as an editor at Fast Company's Web site. Mr. Denton said he won't be replaced. Mr. Robischon's duties, which included budgeting, hirings and firings, design stuff, etc, will now rest in Mr. Denton's hands.