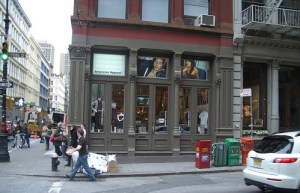 While Women's Wear Daily keeps reporting that retail sales are "plunging dramatically" and that retail space vacancies are increasing along Madison Avenue, it seems that designer boutiques are not holding back from opening new locations. 
In a brochure called "The Faith Report" that the Daily Transom recently received from Faith Hope Consolo, the chairman of retail sales and leasing division of Prudential Douglas Elliman, some 50 stores are highlighted that are either expanding or opening new outposts all around the city this fall. Of course, no one knows whether stores like Otte, which recently opened a branch on the Upper West Side, or Comptoir des Cotonniers, the French clothing store that recently opened its first U.S. outpost in Soho, will be able to stay alive in the coming year. And we're curious whether those stores that haven't yet opened will reconsider and delay the opening a few times, before finally axing the new locations altogether. 
Until then, here are some highlights from the 50 retail newcomers.
Madison Row:
Burberry is planning to open a new location at 444 Madison that will house both the company's offices and large retail space. 
Brooks Brothers is expanding its space at 346 Madison.
Domus Design Collection is moving into 136 Madison. 
Upper West Side: 
American Apparel recently moved into the Ansonia building at 73rd Street and Broadway. 
A new Ugg boutique is taking over the former Rockpost space underneath the Reebok store at Columbus Avenue and 67th Street.
West Elm is opening a bi-level store at 15 Central Park West. 
Williamsburg's Otte boutique has already opened at 1281 Broadway.
Upper East Side: 
Former Ralph Lauren stylist Nicole Hanley, who happens to be dating Tamara Mellon's ex-husband, Matthew Mellon, has recently opened her own boutique opened at 201 East 74th Street.
A Dempsey and Carroll stationery store opened at 1049 Lexington Avenue in September.
Midtown: 
Sixteen-year-old Russian socialite Kira Plastinina's new store has opened at 22 West 34th Street and will soon feature her collaboration on a line of candy with Dylan Lauren. (This is the first time Ms. Lauren has ever done a collaboration.)
Downtown: 
Holly Dunlap's Hollywould has opened at 211 Elizabeth Street. 
Rock & Republic is opening at 102 Greene Street. 
Comptoir des Cotonniers recently opened at 155 Spring Street. 
Hugo Boss is opening at 118 Mercer Street. 
Vera Wang's ready-to-wear boutique is slated to open at 158 Mercer. 
West Village:
Rag & Bone has opened its first New York boutique at 104 Christopher Street.