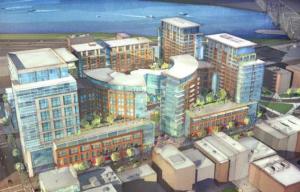 General Growth, the Chicago-based developer aiming to redevelop the South Street Seaport and to build a 1.7 million-square-foot entertainment and housing complex in East Harlem, has hired a bankruptcy attorney, according to today's Wall Street Journal.
While the move does not necessarily mean the mall developer plans to declare bankruptcy, it is yet another reflection of its shaky finances. General Growth is struggling to service a staggering $27 billion in debt accrued during a recent acquisition spree.
According to the Journal:
General Growth's most pressing problem is $900 million of mortgages due next week on the Fashion Show mall and Shoppes at the Palazzo in Las Vegas; the company has asked for, and may get, a few months' breather. The company also has $58 million in bonds due Dec. 1 and $600 million in bonds due in March and April.
What's more, analysts say the company is close to violating certain covenants of its bonds, such as the ratio of its cash flow in comparison to its interest payments. The company's scheduled debt payments escalate in the coming years, from $3.1 billion next year to $4.5 billion in 2010 and $8.4 billion in 2011.
General Growth's stock has sunk from an all-time high of $67 in March 2007 to less than $1. It closed Wednesday at 40 cents a share, down 7 cents, or 15%, in 4 p.m. composite trading on the New York Stock Exchange.
Meanwhile, General Growth's stock price has plummeted in recent weeks. Indeed, it was just last week that the S&P 500 delisted the company, its share nearly worthless.
This spate of recent bad news calls into question the viability of the company's two planned Manhattan projects, though the company has apparently yet to inform city officials that it will be backing away from its plans.
A company spokesman told The Observer on Tuesday, "Our intent is to continue as developer; that's why we have invested so much in working with world-class planning experts and with the community to create our proposal."