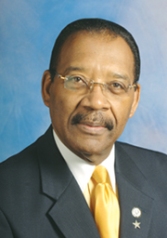 ALBANY—State Senator Ruben Diaz Sr. said he would conference with Democrats in the chamber as they gather at the Capitol for a special session tomorrow.
"I'm part of the conference, and I will always be part of the conference," he said. The last time the Democrats gathered, Diaz and the then "gang of four" were not present. He said that was just "an absence."
Diaz, as well as senators Pedro Espada and Carl Kruger, remain uncommitted to supporting Senator Malcolm Smith in his bid to be majority leader. They have raised concerns about the lack of Latino representation in state leadership, and Diaz has said he will not support a majority leader who favors same-sex marriage.
But that will not stop him from organizing with the party, he said. "My choice of a leader has nothing to do with my being part of the conference," he said.