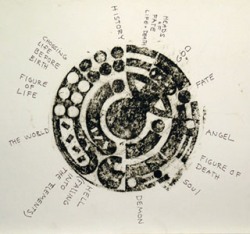 This writer once had the good fortune of hearing Richard Serra speak at a college commencement (even if it was secondhand). 'If it doesn't work, break it,' the great Taurus of American sculpture inveighed to the graduates. Words to work by, maybe. The remark has stayed with me over the years (actually months; this was last May or June). It seemed to express the convictions– impolite, bullheaded, you name it–behind Serra's work.
That's a long way of saying that there are certain artists whose talks you wouldn't want to pass over. Matt Mullican may be one of them. Tonight, Mullican is scheduled to give a gallery talk/interview with curator João Ribas at 6:30 at The Drawing Center.
The subject of the talk? "Matt Mullican: A Drawing Translates the Way of Thinking," his solo show which opened at the Drawing Center today and runs until February 5.
One is especially eager for the opportunity to hear Mullican give a formal talk because of the slightly mad and inscrutable quality of his work. Since the 1970s, the California-born, New York transplant has crafted a large body of performance-based work that deals with signs, symbols, language and meaning, which has involved Mullican acting out monologues, scribbling furiously in note-books, making "Bulletin Board" drawings from hieroglyphs, tarot cards, and number systems. Logorrhea (intentional) is built into his working method.
Note: Mullican has also been known, on occasion, to appear in public while under the effects of hypnosis. Will he do so tonight?