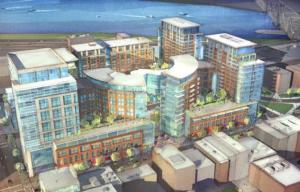 A leader of the consortium selected by city officials to build a mixed-use development on East 125th Street in Harlem has been dropped from the S&P 500 because its shares are virtually worthless, according to an article in today's Wall Street Journal:
The latest meltdown in shares of mall and industrial REITs underscores the concern over a sharp, global economic slowdown in the wake of more dismal news from the retail sector.
Real-estate investment trusts faced more selling pressure Wednesday after another company cut its dividend to save capital and one of the nation's largest mall operators, General Growth Properties Inc., was dropped from the S&P 500 Index after the stock lost virtually all its value.
As of this morning, General Growth's stock was trading at about $0.35 a share. According to an October article in the Journal, the firm "has struggled for the past year to refinance and pay down a $27 billion debt load amassed in its aggressive acquisition spree of past years."
The Chicago-based General Growth leads the group of developers chosen by the city in October to build the 1.7 million-square-foot project on a plot of land bounded by 125th and 127th streets, and Second and Third avenues, most of which is owned by the city.
The $700 million project calls for more than 800 apartments, three-quarters designated for moderate and middle income families; a quarter-million square feet of office space; and 30,000 square feet of cultural space.
Oddly, General Growth was already in trouble when the city selected it earlier this year, its stock having dropped 92 percent since January.
It's unclear how this will impact General Growth's projects in New York City. Not only is the firm committed to building the project in East Harlem, but it was also selected to redevelop the South Street Seaport.
The city did not immediately respond to a request for comment.