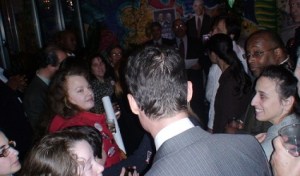 In a quarterly survey of economists, "participants were 'unanimous' in describing the U.S. economy as being either in a recession or on the brink of one. Most said the recession had begun in April and would last 14 months."
It looks like George W. Bush will leave Barack Obama $350 billion of the $700 billion bailout money
At the City Council hearing today, David Weprin produced a document that says the mayor must let the Council vote on rescinding the $400 property-tax rebate.
Some Willets Point business are asking Hiram Monserrate for more help relocating, and charging that the current program pushes owners to dissolve.
City Planning Commissioner Amanda Burden will be in Gowanus tonight for a forum hosted by Community Board 6.
City Councilman Eric Gioia won an early endorsement in the public advocates race from a union, even though his opponent, Bill de Blasio, has strong labor ties.
Natural gas drilling in the Southern Tier could be a "grave threat" to the city's water supply.
A Rochester blogger is hoping Jerry Nadler or Maurice Hinchey would be appointed to Hillary Clinton's Senate seat, but knows it's unlikely.
Marc Ambinder tries to explain why the speculation has gone on so long without an annoucement.
Dutchess County Executive Bill Steinhaus got a national award.
A battle is brewing in Albany over "ghost tickets" for cops illegally parked personal cars
One design for the new Coney Island is pretty splashy.
U.S. Attorney Chris Christie, who is expected to challenge Jon Corzine next year, officially resigned.
Jonathan Chait doesn't think it's all that obvious that McCain would help Obama.
Borough President James Molinaro wants to cut smoking in Staten Island.
Ben notes that the statement they released jointly after the meeting did not specify areas of cooperation.
Mike Huckabee released a book, looks likely to run in 2012.