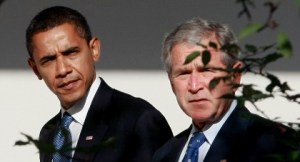 A Rochester blogger thinks Randy Kuhl lost because he eschewed town halls.
Spitzer-toppling U.S. Attorney Michael Garcia is expected to step down.
Michael Bloomberg paid tribute to the late Terence Tolbert as a "one-man melting pot."
Shortly after she was chosen, Sarah Palin was warned to stop comparing herself to Hillary Clinton. [UPDATE: that turned out to be not true.]
Anthony Weiner is looking to hire an administrative assistant. Again.
The Gang of Four still isn't entirely settled on Malcolm Smith.
Tony Avella called for the city to back off Willets Point.
Brad Aaron at Streetsblog thinks it's silly that Anthony Weiner and John Liu are loudly condemning the idea of East River bridge tolls, but proposing no other source of revenue for the broke M.T.A.
The Obamas standing next to the Bushes at the White House is a slightly disorienting image.
A guest at a fancy Election Night party for hedge-funders predicted that within a year of the Obama administration, the Clintons would "orchestrate a campaign to declare this a failed presidency."
Jim Geraghty argues against the idea that the G.O.P. is now a regional party by pointing to the fact that some Northeastern states still have Republican governors.
Paul Krugman fears that the Obama people's plans for stimulus aren't bold enough.
As David Carr noted, Obama's online followers will influence how he governs, and that could affect Joel Klein.

Mike Tomasky thinks departing D.N.C. chair Howard Dean has been the best of his lifetime.