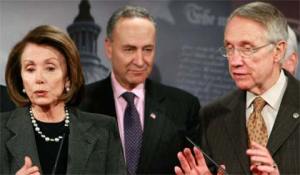 Continuing the incredibly confusing sequence of events in the Hillary-as-S.oS. story, CNN is now reporting that she's just one of a couple of top candidates.
At T.P.M., Greg Sargent reports that Bill Clinton's done all the vetting he's going to do, and they're waiting for a formal offer.
It's a very popular idea with Americans, says a poll.
Maybe Obama wants to keep Clinton close so he can keep her husband from getting into too much trouble. (via The Stump)
Is Nydia Velazquez too indifferent to Israel to be senator?
According to Ben, the "emerging consensus is that Obama will be liberal in domestic policy, but fairly hawkish on foreign policy.
The House Ways & Means Committee unanimously voted to keep Charlie Rangel chairman.
Irene Liu seems skeptical of the armchair generals who think David Paterson should have done things differently.
The accidential governor is raising money for the accidental comptroller, who says he's still going to run for mayor.
A conservative blogger upstate insists Malcolm Smith is using state resources for campaign purposes, though this particular example seems blurry.
Georgina Bloomberg thinks her father might as well have a third term as mayor "if it makes him happy."
Streetsblog says "Amen" to Henry Waxman winning the chairmanship of the House Energy Committee.
The City Council approved the garbage truck garage at the West end of Spring Street, sure to reignite revolt from locals.