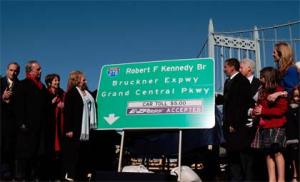 David Paterson told a reporter he would not feel obligated to appoint a woman to Hillary Clinton's Senate seat, should she leave it.
If Clinton becomes S.o.S. the people her campaign owes money will just have to wait.
Andrew Cuomo drew 500 people to a forum "to discuss how Cuomo's office can help citizens with a variety of issues."
The city cut funding to 21 day care centers around the city.
The City Council voted to rezone the Lower East Side, a move actively opposed by the Chinatown community.
The State Senate majority learns how to lead again.
Further opposition to the Brooklyn House of Detention.
Gary Ackerman criticized automakers for flying in private jets to Washington, seeking bailout money.
There's a website dedicated to defeating the 29 City Council members who supported Bloomberg's push for extending term limits.
Brooklyn Ron says the borough is changing.
Monroe County employees can't read the blog Rochester Turning while at work.
Public authorities spend a lot of money, according to a new study.
Manhattan District Attorney candidate Leslie Crocker Snyder doesn't have a problem with term limits.