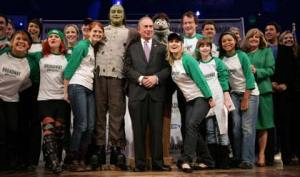 Brand new Bronx Democratic boss Carl Heastie, who led a messy coup against former leader Jose Rivera, calls for unity.
Assembly Minority Leader Jim Tedisco, who helped Senate Majority Leader Dean Skelos bar David Paterson from making budget cuts during the special session, is asking Paterson to make a "bipartisan" appointment to Hillary Clinton's seat.
Asked about be being succeeded by Clinton, Condoleezza Rice declined to comment, but said she was confident the country would be in "good hands."
Adolfo Carrion, who has not spoken with the media since news he may be up for a cabinet job, will appear at a Citizens Union breakfast on December 9.
A Syracuse blogger sees a parallel between the fall of the Soviet Union and the decay of upstate New York.
Joel Klein bought a $2 million home in Sag Habor, and said he doesn't like the idea of commuting to Washington D.C.
In the comments section, one reader supports Jessica Lappin for public advocate, and another notes she'd have to give up her City Council seat to run.
John DeSio had a hard time photographing Anthony Weiner in the Bronx.
The F.E.C. let Rudy Giuliani off.
A blogger makes the argument for why keeping Bob Gates as Secretary of Defense is a sign Barack Obama is serious about changing American foreign policy. (via A.S.)
Obama is keeping his longtime speechwriter.
He also opposes a "girly dog."
And here's a collection of festive Thanksgiving photographs of presidents with the turkeys they pardoned.