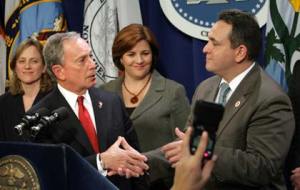 Michael Bloomberg got what he wanted on Willets Point, reports Eliot Brown, who writes, "Apparently, all land use fights do, in fact, have the same conclusion."
A Queens blogger commends the city for not resorting to eminent domain.
A former Pataki spokesman heaps praise on David Paterson's fiscal responsibility, and warns of an inevitable ad blitz from various interest groups.
Those budget cuts include $41 million that will not go to New York City.
John Riley of Newsday thinks Paterson is screwing over Long Island schools.
A conservative blogger thinks unions have become too powerful, and need to share the burden of budget cuts.
State Senator Tom Duane said his colleague Ruben Diaz, Sr. is being a"bully" on same-sex marriage.
Ironically, Diaz is questioning Paterson's Democratic principles.
An upstate blogger thinks people who think Barack Obama will help Buffalo are under many illusions.
Chuck Schumer doesn't seem to think a stimulus package will pass during the upcoming lame-duck session of Congress.
Gay marriage comes to Connecticut.
Stephen Colbert sort of made a Bloomberg joke last night.
Jerusalem's mayor-elect is citing Bloomberg as his role model.
According to Stephen Waldman, the religious right sunk John McCain's election chances because he would have alienated them with a running mate like Bloomberg, who really could have helped.
Peter Vallone, Jr. will hold hearings on Bloomberg's plan to eliminate an entire class of police cadets.
Josh Silverstein is glad Hiram Monserrate came to his "senses" and is backing Malcolm Smith.
Joe Mondello's future as state G.O.P. chairman was discussed on a conference call today.
According to his Facebook status, Rodney Capel, who was once the State Democratic Party's executive director, is now working at Mercury Public Affairs, which is home to many G.O.P. operatives.
The National Enquirer claims to have exposed yet another extramarital affair.
Weekly World News says they had the story first.