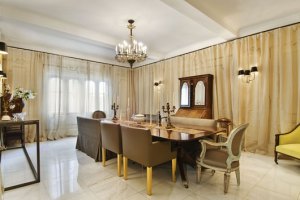 In an absurdly ideal New York City, 13-room co-op spreads overlooking pretty Upper East Side blocks would be reserved for public school teachers and organ donors, but executives who have recently sold their power plant companies to Bear Stearns would politely be forced to live more modestly.
But that's not the way things are. According to city records, Dean Vanech, whose New Jersey-based Delta Power Company was acquired by Bear Stearns subsidiary Arroyo Energy early last year, bought a five-bedroom apartment at 33 East 70th on the day before the election. He and his wife, Denise, paid $14.8 million.
Records suggest they still own a high-floor apartment on Fifth Avenue, bought three years ago for $5.07 million.
According to a listing with Halstead's Monica Podell, the perfectly proportioned apartment opens on a marble foyer, which leads to a separate marble gallery. Then there's a 28-foot-long living room with a wood-burning fireplace; a library; a master bedroom suite with his-and-hers walk-in closets and bathrooms; four more bedrooms; a 23-foot-long dining room; and a butler's pantry that leads to the eat-in chef's kitchen, which leads to the laundry and then maid's room.
Ms. Podell and Mr. Vanech did not return calls to their offices.
The co-op was bundled with its next-door neighbor, the only other apartment on the floor, which made for a $30 million listing, but the executive and his wife evidently didn't need what would have been a 7,600-square-foot, 23-room, eight-bedroom, seven-bathroom spread.
What kind of power is Mr. Vanech working with now that his company was sold to Bear? "Given the cost of long-dated, gas-fired generation, we will be focusing our efforts on other technology and fuels, such as coal, biomass and hydro," he told an industry publication after founding his new Olympus Power. "It's too late to commit to wind."
mabelson@observer.com