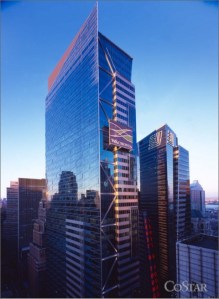 Pryor, Cashman, a mid-size entertainment law firm resplendent with B-list clients, has announced it will take 100,000 square feet at Times Square Tower, the Boston Properties building on 42nd Street between Broadway and Seventh Avenue. It will relocate from Eastgate Realty's 410 Park Avenue, which has housed the firm since 1971.
The firm, whose clientele includes, among others, a number of American Idol contestants, and Bob Guccione Sr., the founder of Penthouse, signed a 15-year lease for the 39th, 40th, and 41st floors of the 48-story tower, beginning in mid-2009.
Pryor, Cashman had formerly been negotiating with the Fisher Brothers for space at 605 Third Avenue.
The full release is below:
FOR IMMEDIATE RELEASE
Law Firm Pryor Cashman Signs Deal for 100,000 Square Feet in Times Square Tower Pryor Cashman LLP (www.pryorcashman.com), a prominent mid-sized law firm, announced today that it has agreed to lease approximately 100,000 square feet in Times Square Tower.
The building, designed by Skidmore, Owings & Merrill and completed in 2004, is located on the south side of 42nd Street between Broadway and 7th Avenue. Since 1971, Pryor Cashman has been located at 410 Park Avenue.
Pryor Cashman, which has over 130 attorneys plus a staff of over 90, signed a 15-year lease and will occupy the entire 39th, 40th and 41st Floors in the tower, with additional space in the base of the Building, beginning in mid-2009.
"Pryor Cashman looks forward to moving to this spectacular building and to being a part of the fine roster of tenants of Boston Properties and the excitement of the Times Square district," said Managing Partner Ronald H. Shechtman.
Since its founding in 1963, Pryor Cashman has grown steadily in every decade, culminating in record revenues and profits for 2007 and the first half of 2008. Also this week, Pryor Cashman was named by Crain's New York Business as one of the Best Places to Work in New York City.
"Now we'll be an even better place to work with our new prime location and a spectacular, more efficient work space," Shechtman added.
A CB Richard Ellis team, led by Lewis Miller, represented Pryor Cashman. Boston Properties (through its affiliates) is the owner and manager of Times Square Tower, and was represented by a different CB Richard Ellis team in the transaction.
A Fact Sheet about Pryor Cashman may be found here.
###