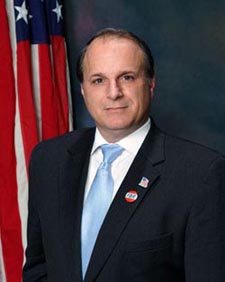 ALBANY—It's official: Democrat Eric Massa will represent New York's 29th District in Congress.
"Every ballot has been counted, and I am humbled by accepting the votes and the victory," Massa said just now on a conference call with reporters. He defeated Representative Randy Kuhl, who Massa said called him graciously to concede the race. (No immediate word from the Kuhl camp.)
The margin of victory, the congressman-elect said, was more than 5,000 votes.
Massa said his immediate focus in Washington will be working to stimulate the economy, and despite reservations, he expressed support for a bailout of the Big Three automakers if it includes stipulations for energy-efficient vehicles.