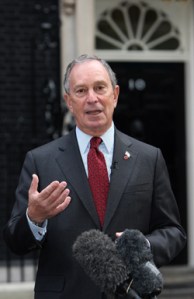 On November 19 Columbia University and the Manhattan Borough President's Office held a conference on The Politics of Food. The half-day conference was devoted to one of New York City's biggest challenges: ensuring that the public has ready access to high-quality food. Speakers included Columbia President Lee Bollinger, Manhattan Borough President Scott Stringer, New York Mayor Michael Bloomberg and H.E. Father Miquel d'Escoto Brockmann, President of the United Nations General Assembly.
At the conference, Mayor Bloomberg linked the food issue to what he considers to be his administration's most important achievement – increased life expectancy for the people who live here. That figure is now greater than the average longevity of the U.S. population as a whole, and "if that's not the purpose of government, I don't know what is," said the mayor.
Speaking after Father d'Escoto, Bloomberg said the City will continue its agenda of making New York a healthier city and a better place.
He touched on the administration's anti-smoking campaign, which four years from the time of its implementation in 2002 had reduced the number of smokers by 240,000. The City's smoking rate for 2006 was the lowest on record at 17.5%, lower than all but five US states – California, Washington, Idaho, Utah and Connecticut, according to the Centers for Disease Control and Prevention. That achievement demonstrates that New York City can play a leadership role and serve as a model for other cities as they push for change.
"New York is still the city people look to for so many trends, and we need to keep focusing on these things," Bloomberg said, referring to the City's newest battles on calories, trans-fat and the sodium content in packaged food products.
As part of its drive to create a healthy, happy city, the Mayor's Office has three goals:
Get city agencies to abide by high nutrition standards that include lowering salt and calorie contents and supplying more high-fiber meals;
Make healthy food more affordable; and
Bring healthier food to low-income neighborhoods.
Each year New York City schools serve 225 million meals, more than any other US agency other than the Defense Department. The challenge, Bloomberg noted, is getting people to eat the healthy food provided. In other places getting people to eat healthy means increasing access to nutritious food. More than ¼ of all Harlem residents are obese, a health problem that continues to get worse even as the city become more environmentally friendly, Bloomberg noted.
The city is pushing bodegas and other local grocery shops to stock more fruits, vegetables and low-fat milk and dairy products. It has also extended a program that offers free in-class breakfast to students.
"Even in difficult financial times New Yorkers are living longer, healthier lives," Bloomberg said during his closing remarks. "We're not going to walk away from our opportunity to invest in the future, whatever the cost."
Bloomberg's comments echoed those of Father d'Escoto, who attributed the current food crisis to unsustainable government policies. The UN president called the fact that so many people now suffer from hunger and malnutrition "downright sinful," suggesting a need to move beyond "monocultural homogeneity" in food production to biodiversity. "A politics of food needs to be rooted in the local and communal," he said. "We must put people first, and listen to the voices of those most affected by poverty and hunger."
A study recently released by the UNEP stated that organic farming can deliver increased yields thought to be the preserve of industrial farming, an important finding given that current methods of production are no longer sustainable. "We need a multi-functional approach to food production that has a concern for the poor, the Earth and our communities," d'Escoto said.
In later breakout sessions Joel Berg, executive director of the New York City Coalition Against Hunger, took up the issue of food charity, referring to a November 19 news bulletin that Wal-Mart will begin giving more than 90 million pounds of fresh food annually to the nation's largest nonprofit organization addressing hunger, Feeding America.
"Charity alone will not solve the problem," said the author of All You Can Eat, a book on US hunger, obesity and poverty, noting a 40 percent increase in the federal food safety net would be needed if we hoped to end all hunger in the United States. The challenge of dealing with hunger is great. According to the United States Department of Agriculture (USDA), the number of Americans who couldn't afford a full and stable supply of food rose by 700,000 in 2007. Even before the economic slowdown, more than 36 million Americans – including 12 million children – were considered "food-insecure" by the U.S. government.
Berg and the panel speaking on the urban food agenda addressed problems with food stamps, school meals and increasing community coordination. The Director of Special Projects for the United Food and Commercial Workers Union Local 1500, Pat Purcell, went straight to the point: "Good food, good jobs and good health are the building blocks of every community."
As winter approaches and the economy continues to slip, the danger is that more people will go hungry. This is certainly a global issue, and the end of world hunger is a constant mission of my Earth Institute colleagues Jeff Sachs, Pedro Sanchez and Cheryl Palm. They are working every day to help stimulate a "green revolution" in African agriculture. Here in the United States, we need no agricultural revolution. There is more than enough food for everyone. It is disgusting and morally repulsive that anyone in this nation should ever go to sleep hungry.
This is the season when those of us who still have a little money in the bank need to think about how much to give to charity. I know we are all considering reducing the gifts we give each other. That makes sense. But let's not be stingy to those in need. As we sit down to Thanksgiving dinner this year let's demonstrate our thanks-by continuing our giving. And let's try to remember that all the non-profits and charities we gave to last year will need even more help this holiday season.