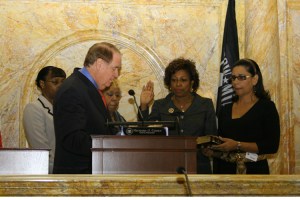 If Paul Sarlo becomes the new Senate Judiciary Chairman when John Adler leaves for Washington in January, Senate President Richard Codey will need to name a new Chairman of the Senate Labor Committee. The two other Democrats on the panel now are Frederick Madden and Sandra Cunningham. Statehouse watchers say that one could be a no-brainer: Codey will pick Cunningham, his ally, and not Madden, who is aligned with Codey's rival, South Jersey Democratic Chairman George Norcross.
Madden, elected in 2003, is the most senior Senate Democrat without a committee chairmanship, followed by Loretta Weinberg, who entered the Senate in 2005.
One more thing on the Codey vs. Norcross rivalry: Codey's party at the League of Municipalities convention in Atlantic City this week was completely overshadowed by the bash thrown — not coincidentally at the same time on the same night — by Senate Majority Leader Stephen Sweeney. The consensus is that Sweeney had five times as many people as Codey did.
But Codey probably doesn't care. Earlier this month, when Codey and Sweeney faced off in Bayonne, Codey was the winner. The Senate President actively supported Mark Smith for Mayor, while Sweeney played a role in Patrick Conaghan's unsuccessful campaign.