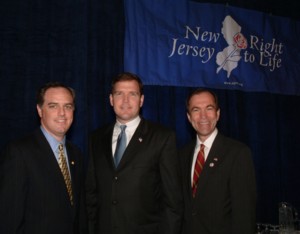 Assemblyman and state senate candidate Michael Doherty (R-Washington Township) continued to shore up his conservative credentials today, rolling out the endorsement of U.S. Rep. Scott Garrett (R-Wantage.)
"I have worked with Mike for many years, first in the state legislature and now as a Congressman, and he has consistently fought for smaller government, less regulation and lower taxes," said Garrett, who recently fended off a well-funded challenge to win reelection by a slightly greater margin than in 2006. "Mike is a strong supporter of the Constitution, and he has been consistently endorsed by pro-business groups as a result of his record in the state legislature."
Doherty is running to replace state Sen. Leonard Lance (R-Clinton), who will join Garrett in New Jersey's Republican congressional delegation in January. Assemblywoman Marcia Karrow (R-Flemington) is also running, and Hunterdon County Freeholder Matt Holt is considering a bid.

Doherty and Garrett share a strong commitment to conservative political philosophy. Garrett is the most conservative member of New Jersey's congressional delegation, while Doherty is among the most conservative of all 120 New Jersey legislators. When Doherty considered running for U.S. senate last year, Garrett sat on his exploratory committee.
Doherty has been campaigning for the 23rd District state senate seat since the day after Lance won his congressional race. He's already won the endorsement of several conservative organizations and two state senators.