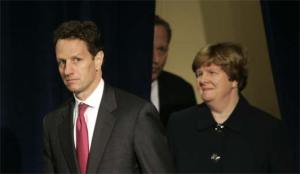 The only real cause for speculation in the weeks leading up to Barack Obama's appointment of Tim Geithner as Treasury secretary and Larry Summers as National Economic Council head was which economic heavyweight would get which post.
Some people close to Obama suggested in recent days that the controversy that Summers encountered as president of Harvard made Geithner, the New York FED president, the safer pick, and one influential supporter of Obama told me today that "if he wanted Larry in the Treasury he would have had him."
This supporter said that the most likely reason Obama went with Geithner for the top job was the probability that Geithner would be a better public communicator than Summers, who can come off as churlish and arrogant.
"He also may have decided that Geithner's involvement in all of the big questions of the crisis would make for the smoothest transition," said the supporter.
Summers, however, might yet have the more influential post. The Treasury secretary, this supporter noted, has his own staff and travel responsibilities as the face of the administration's economic policy, but the head of the NEC often communicates more closely with the president.
"The guy inside is more of your brain trust," said the supporter.
Obama seemed to hint at his dependence on Summers in his remarks earlier today:
"And as one of the great economic minds of our time, Larry has earned a global reputation for being able to cut to the heart of the most complex and novel policy challenges. With respect to both our current financial crisis, and other pressing economic issues of our time, his thinking, writing and speaking have set the terms of the debate. I am glad he will be by my side, playing the critical role of coordinating my Administration's economic policy in the White House – and I will rely heavily on his advice as we navigate the uncharted waters of this economic crisis."