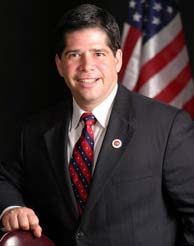 City Councilman Vinny Gentile of Brooklyn thinks Michael Bloomberg's recent call for severe budget cuts provides an opportunity for those who are considering challenging him in next year's mayoral race.
In Gentile's opinion, Bloomberg is making an "assault" on middle class New Yorkers with his recent spate of budget cuts, which include possibly raising property taxes, rescinding the $400 homeowners rebate, and charging money to use plastic bags. Speaking of disgruntled voters in his Bay Ridge district, Gentile said, "They're waiting for an alternative and for someone to emerge."
And he thinks those alternatives better start their campaigns soon.
Representative Anthony Weiner and City Comptroller Bill Thompson have announced his plans to run in next year's race. So has long-shot candidate City Councilman Tony Avella.
According to Gentile, the campaigns have to begin in earnest right now, in order to capitalize on the unpopularity of the mayor's policies. (Thompson has already done a little of that.)
"Who is going to come out front and talk about making ends meet and hanging on by their fingernails to get by?" Gentile asked rhetorically.
"It's not impossible to emerge as the campaign goes forward, but I think it's important not to miss this opportunity right now," he said. "It doesn't mean you can't emerge later, but you could risk losing those people who are pulling away right now from Bloomberg and are looking for that alternative."