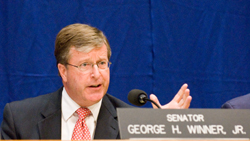 ALBANY—State Senator George Winner, an Elmira Republican, just brought up an interesting scenario in the still-unresolved fight to be the chamber's majority leader.
A "fusion" scenario would exist if two elected Democrats kept their party enrollment, but crossed lines to vote for Majority Leader Dean Skelos. Skelos was re-elected unanimously as his conference leader earlier this week, but the official vote on who controls the whole chamber comes after new members are seated in January.
"I know that that interest on our side in looking at a fusion-type of government is certainly there," Winner said.
As has been reported, G.O.P. efforts have focused on flipping the"Gang of Three" Democratic senators – Pedro Espada Jr., Ruben Diaz Sr. and Carl Kruger – who have publicly stated they are withholding support for Minority Leader Malcolm Smith.
"It also appears by the pronouncements of two of the three of the gang of three, that notwithstanding whether they would vote for a Republican, they're not going to vote for Malcolm Smith," Winner said, referring to Diaz and Kruger, though earlier today Kruger told Liz he was also disgusted with Skelos.
(Earlier this month, Smith proclaimed his security, but was not backed by the requisite 32 senators.)