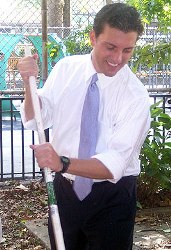 At a City Council hearing on how Michael Bloomberg's budget will impact the Health and Human Services agency, its commissioner traded barbs with City Councilman Eric Gioia over the issue of "finger imaging" recipients in order to qualify for benefits.
Gioia said the program costs about $1 million annually, and acts as a "deterrent of humiliation" driving away countless New Yorkers.
Commissioner Robert Doar said the program works, and is also required by the state. "We are merely implementing a state program," said the commissioner.
Gioia said the rationale for the program reminds him of arguments the "right wing used because they thought they had to be hard on poor people to be good conservatives." Later, after the commissioner noted that the program is used in California and Texas, Gioia said, "Well, I'm sure Governor Bush in Texas, when he implemented it, had the same concerns you had about preventing fraud."
After the exchange, Gioia left the hearing. Bill de Blasio, the chair of the hearing, who, like Gioia, is a declared candidate for Public Advocate, said, "Invoking Governor Bush, that's a tall order."
City Councilmen Peter Vallone Jr. of Queens and Jimmy Vacca of the Bronx both expressed support for the program saying, despite Gioia's assertion, it does prevent fraud and is worth keeping.
UPDATE: Gioia's spokesman Eric Koch emailed to further press the case that finger imaging is not necessary:
The finger-imaging is actually not a State requirement. The State waived the requirement for all other counties in New York State but New York City specifically asked to be able to continue the program. Last year Commissioner Hansell of the State OTDA testified that he knew of no evidence that fingerprinting deters fraud. USDA officials have not found that fingerprinting prevents fraud and instead concluded that "it may have a negative effect on program access by deterring certain households from applying." In 2006, fingerprinting detected only 31 cases of fraud (out of over 1.1 million people receiving food stamps). There is no evidence that fingerprinting prevents fraud; instead it costs the City $800,000 a year.