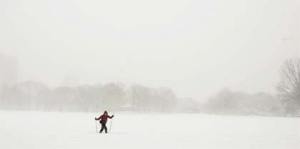 City Councilman Eric Gioia wants Jumbotrons erected in Central Park for all those New Yorkers who can't score a ticket or get to Washington D.C. to celebrate Barack Obama's inauguration in January.
Gioia, speaking with me after Ray Kelly's testimony, said if the city can't pay for it, the cost could be borne by private funding.
"New York has a history of celebrating great human achievement," said Gioia, "and clearly this is a historic moment and a celebration for the entire country."
The night Obama won the election, Representative Charlie Rangel put up a big screen outside the federal building on 125th Street and hosted a series of guest speakers. (The Saturday before the election, Rangel hosted elected officials and musical acts at the same location).
Speaking of the Central Park location, Gioia said laughingly, "If it's good enough for Bon Jovi, it should be good enough for the inauguration."