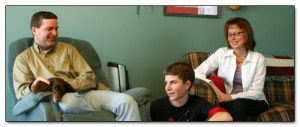 Dale Glading insists he's not a glutton for punishment. But after getting crushed by Rob Andrews in ultra-Democratic 1st Congressional District last week, he's thinking about making another run for office in a similarly Democratic district.
Glading, who runs a prison ministry and lives in Barrington, said that he may run against Assembly Speaker Joe Roberts (D-Camden) and incumbent Assemblywoman Nilsa Cruz-Perez (D-Camden) in the 5th Legislative District.
"I would never say never. I told my wife going in, or she told me rather, that it was one and done. But she's expressed some interest in it," said Glading. "At this point it's up to God and my wife in that order."
Glading only got 26 percent of the vote against Andrews, although that's an improvement over Daniel Hutchison's 2004 margin, and he was the first Republican in the district in recent memory to get all three of its daily newspaper endorsements. Nobody ran against Andrews in 2006, and no Republican bothered to run in 2002.
The way Glading sees it, somebody has to hold incumbents accountable.
"Even though this was my first run for office, I'm not politically naïve. I know the odds. I knew the odds going into the congressional race, but I was appalled that [no Republican] had run against Congressman Andrews in two of the last three election cycles," he said.
Still, Glading said that he would never run in a race that he believes he has no chance to win.
For Glading, the race against Andrews provided some serious lessons for him about gerrymandering and fundraising. He recently wrote a detailed blog entry outlining his gripes with the campaign system.
He hopes that some kind of publicly funded campaign system could be put in place to keep challengers like him by being monetarily swamped. Ironically, Roberts was a prime backer of New Jersey's Clean Elections program, which has been shut down for this election cycle amid questions of its constitutionality and legal challenges to similar programs in other states.
"I'd like to be able to make a statement where you can run a competitive campaign without raising hundreds of thousands or millions of dollars. The only people who could raise those dollars are PACs or lobbyists," he said. "I think we just have to find a way to disconnect it from the deep pockets."