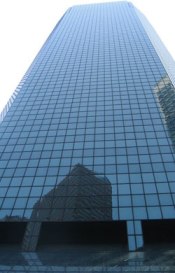 It's extraordinary what passes for good news these days! But here you have it. Commercial Mortgage Alert is reporting that only $6 billion worth of CMBS loans worth $50 million or more each will mature in 2009, a quantity that the trade mag dubs "relatively manageable even given the virtual shutdown of lending markets."
The largest borrower in the group, by far, is General Growth Properties. The mall REIT, whose severe debt problems have been well publicized, accounts for one quarter of the total. Other borrowers with large loans coming due next year include New York developer Joseph Moinian ($382 million) and private-equity firm Yucaipa Cos. ($254 million).
Mr. Moinian has a $292 million loan for 180 Maiden Lane coming due on Nov. 11, 2009, and a $90 million loan for Ocean Residences maturing on Nov. 1.
Other New York-relevant names on the list include Istithmar, which has a $115 million loan coming due for 6 Times Square; Hines, which plans to build a 61-story Shangri-La Hotel at 610 Lexington Avenue, has a $91 million loan coming due for commercial space in Miami; and Gramercy Capital, which has a $63 million loan maturing for commercial space in St. Louis.
Given the lack of credit, it will prove difficult to refinance those loans, according to the article. Alan Todd, a J.P. Morgan CMBS analyst, told the mag that he has "no doubt that there will be borrowers who choose not to save the property, given those terms. It's hard to tell — a lot depends on how much liquidity there is in the system."