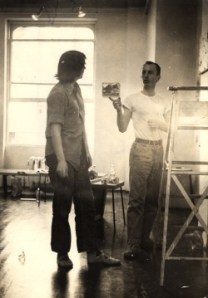 The Baltimore Sun reports that Grace Hartigan, the second-generation Abstract Expressionist and one-time New York painter, has died. Hartigan was 86. She was one of the last members of the hardboiled and cigarette-lean generation of American artists that followed Jackson Pollock and Willem de Kooning.
The Sun bit is touchingly hometown. The story focuses on Hartigan's role at the Maryland Institute College of Art, where the artist taught from the mid-60s onward. It is also worth remembering, farther back, that Hartigan was once the pre-eminent woman painter in New York of the 1950s–at a time when the art world numbered no more than several hundred artists, dealers, collections, (imperial) critics and very few women.
In recent years, as the reputations of her peers Helen Frankenthaler and Joan Mitchell have come to hover somewhere at the distinction of very good-to-great, Hartigan had remained a figure on the margins, a figure for revision. Two of her works were included in the "Blind Spots" section of the "Action / Abstraction: Pollock, de Kooning, and American Art, 1940-1976" exhibition at the Jewish Museum this past summer.
"She was, I would say, the woman who broke the glass [ceiling] then existent for women artists in the 50s," exhibition curator Norman Kleeblatt told the Observer. Hartigan was "as prominent as many of the male artists of the time, and she was in so many of the major exhibitions," he said, citing MoMA's "12 Americans" show of 1958 and the influential "The New American Paintings" of two years later.
For one last tribute to Hartigan, go out to Green River Cemetery, Long Island, and seek out the grave of the poet Frank O'Hara. Prepare to make a rubbing. For sometime in the 50s, Hartigan became friends with O'Hara, and her name may or may not be inscribed on the poet's tombstone: 'Grace / to be born and live as variously as possible."