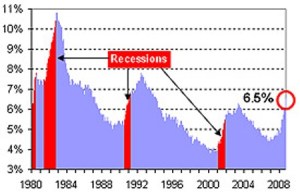 Exhausted by the reams of negative prognostications? At least this one, care of Grubb & Ellis, is delightfully brief.
In a one-paragraph downer, Grubb & Ellis chief economist Robert Bach tells us that the economy is in the pits, and it should only get worse. Enjoy!
The labor market has deteriorated sharply in the past three months. The October unemployment rate hit 6.5 percent, the highest since February 1994, while employers have shed nearly 1.2 million payroll jobs this year, more than half of them coming in August, September and October. Total job losses may approach the 2.7 million total recorded during and after the 2001 recession, while the unemployment rate could exceed 7.8 percent, the peak registered in June 1992 following the 1990-91 recession. Expect commercial real estate leasing market fundamentals to soften through 2009.