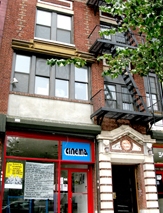 In 2005, Albert Maysles, the renowned documentary filmmaker, sold his family's longtime home in The Dakota and began planning the construction of an art house cinema in Harlem.
In the opinion of the director's son, Philip Maysles, 28, the co-op building on West 72nd Street had become "a lot less fun." Although the Maysleses sold their apartment for less than expected, the earnings were sufficient to purchase three buildings farther north: a brownstone on 122nd Street, a "shell of a building" on 120th Street, and a storefront at 343 Lenox Avenue that now houses the theater at the nonprofit Maysles Institute.
"Our goal from the inception was to cultivate a non-traditional audience for documentary film and what you could call art films," said Philip, who acts as the Institute's programmer and youth programs director. "Rather than just trying to appeal to the film-going audience from all over the city… we've been targeting niche audiences that may not be interested in film as art in general, but may be more interested in a certain cultural phenomenon or a certain political situation."
To this end, the cinema launched "Rent Control: NYC Documented and Imagined," a six-month long film series that comprises a celluloid tour of New York City's neighborhoods past and present. The festival kicked off last month with documentaries, panels and director talks focused on Harlem.
"It's a balance between enjoying the different representations of New York and that spirit of nostalgia," explained the series' curator, Jessica Green, "but also looking forward and trying to bring together films and speakers that spark the imagination."
The films encompass a range of genres – experimental to narrative to cult – but one strand runs through the series:
"The idea that the relationship between the reality of New York and the depiction of New York is more intertwined than one might think," said Ms. Green, a former executive editor of BET.com, who wears glasses with red frames and a houndstooth swing coat. "Whatever the depiction of New York City is at any point – whether it's the All in the Family era or whether it's the Sex and the City era – is influenced by the changes that are happening in New York economically and socially. But also that the depictions of New York in the media represent reality, and the branding of New York actually influences the circumstances of New York."
Screenings at the theater, a room with a Persian rug and 60 seats with batik cushions, began last April. The building took a year to renovate – there was a lot of mold – but reportedly once housed a disco club called Universal, frequented by Sammy Davis Jr. and Stevie Wonder, and an after hours club called the Black Door, according to neighbors. The popcorn machine is cranking and "we're working on selling soda," said Philip Maysles, a smile briefly gracing his stubble-laced cheeks.
November's lineup highlights the Lower East Side and Chinatown; the Upper East Side, Upper West Side and 42nd Street will fill out December; and by January, programming will focus on Brooklyn, with documentaries on Williamsburg, Coney Island and Bedford-Stuyvesant. Events range from a panel on queer youth issues to a talk from a former Times Square sex show worker to the showing of two Bed-Stuy dramas, The Education of Sonny Carson and Spike Lee's Do The Right Thing.
"These are two movies that are shot in the same exact neighborhood within 10 or 15 years of each other," Ms. Green said. "And the neighborhood that's captured, what it actually is, is totally different."
Of course, the Institute itself is a part of that change in Harlem, and not everyone is happy about it. "Let's say 50 percent are confused as to what goes on," said Philip, "40 percent are really positive and think this is a really good thing and is needed, and about 10 percent argue about it."

THE MAYSLESES ARE THAT species examined so thoroughly in their film series: newcomers.
"I don't think that I ever traveled – except for one time when I fell asleep on the subway, and going to Yankees games – I don't think I'd set foot in Harlem until I was, maybe, in college," said Philip, who wore a grey Polo Ralph Lauren sweater and a baseball cap emblazoned with his team's logo. "When I was growing up, there was this invisible perimeter north of, I'd say, 112th Street."
Philip studied visual art at the California Institute of the Arts, and began work on projects that deal with the history of white artists examining black culture. He moved back to New York City by way of Houston, and ventured into Harlem for the first time eight or 10 years ago. Partly as a result of his urging, and partly as a result of budget constraints, the Maysleses bought in the area he had grown to love. (The family looked at property in Brooklyn and Long Island City, but "if you've grown up in Manhattan, you feel a primordial connection to the place," he said.)
The artist acknowledged that the Institute, which he calls a "family business," is part of a gentrification process. The topic of appropriation is one he has considered at length.
"Gentrification will take place regardless of what I do," he said, "so it's a question of, 'What kind of work do you do?' more so than who you are. And I feel that the work that we do here is really positive, in terms of empowering people and also offering people exposure to great cinema, and also great information."
Admission to screenings is a suggested $7, and many of the programming selections have been suggested by patrons, who are mostly local residents. Additionally, the Institute has several educational programs, including On Our Side, which teaches documentary production skills to teens with incarcerated parents.
In the basement, a multi-purpose pink room strewn with black and orange balloons leftover from Halloween, Shashonda Cunningham made a point of mentioning Albert Maysles' generosity: He gave her 9-year-old daughter her first job, selling popcorn. "It's built up her self-esteem," Ms. Cunningham said.
"I see this effort as a good kind of development," Ms. Green, the curator, said. "This is the good side of the new Harlem."