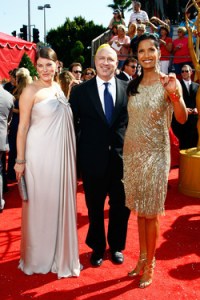 This morning, Top Chef host-judges Padma Lakshmi and Tom Colicchio treated the food press to a conference call to discuss the upcoming fifth season of the show, which was mostly filmed in Brooklyn. Besides learning that guest judges will include Eric Ripert, Dave Grohl, Martha Stewart, Lidia Bastianich, Wylie Dufresne, and Marcus Samuelsson, we found out that Ms. Lakshmi usually "gains about 10 to 15 pounds over the course of [filming] … I always go up one dress size, without fail." Mr. Colicchio was also adamant that people know his, uh, collection of seven restaurants is not "a chain." 
Also, did you know Mr. Colicchio is a sex symbol? We didn't, but the Mr. Clean lookalike's alleged hotness seems to have been a theme of the interview. An explanation, via Grub Street:
Tom on why he's a sex symbol: "It's safe to assume more women watch the show than men, or at least straight men…"
Padma on Tom's sexiness: "I think it's because of Tom's authority. I think there's something very sexy about authority, and Tom dispenses his authority very lightly."
Things got even steamier when they started in on the food: 
Padma on the sexiness of food: "Food is very sensual — it's very physical. It's also something that includes all the senses — the touch, when it's in your mouth (the mouth feel is what they call it, I guess), the smells, the sights, all of it. It's very, very sexy and seductive."
Tom on same: "The act of cooking is what's really sensual — it's the ultimate foreplay if you're cooking for somebody. There's no better way to lube someone's heart."
As if all that isn't enough to get you to tune in, the interview reminded us that self-proclaimed Graydon Carter nemesis Toby Young will be taking Ted Allen's place on the regular judging panel. If his presence is half as entertaining as it is inexplicable, we're sure this will be the best season yet.
P.S. If you happen to be someone who understands this whole sex symbol thing, Mr. Colicchio will be eating dinner and watching the season premiere at his Chelsea spot, Craftsteak, this Wednesday.