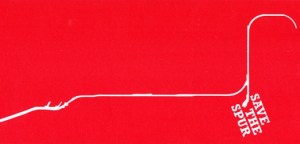 Here's a postcard we got this week from the Friends of the High Line, a subtle call to arms for supporters to show up in force at a West Side rail yards forum on Monday. The incredibly successful advocacy group, which got tens of millions of public dollars to transform the abandoned Chelsea elevated rail viaduct into parkland, is waging, for now, a tepid battle against the Related Companies' plans for the rail yards.
Those plans call for possibly removing a large portion of the High Line known as the "spur," a piece that runs east-west just north of 30th Street and crosses 10th Avenue. Also troubling the advocacy group: Related's plans for the High Line on the western portion of the rail yards, where Stephen Ross and his development firm want to erect two buildings that straddle the rail line. Friends of the High Line says such buildings would block stunning views of the Hudson River at one of the greatest spots on the entire park.
More fireworks on Monday, 6:30 to 8:30 p.m. at the Red Cross, 520 West 49th Street.
Expect a crowd: the High Line folks are offering free t-shirts!