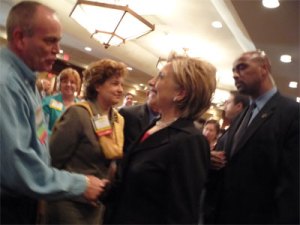 COLONIE—After a speech about public transit today, Senator Hillary Clinton took no questions about what she was doing in Chicago yesterday amid reports that she is a favored candidate to serve as President-elect Barack Obama's secretary of state. She briefly addressed the issue at the beginning of 21-minute speech on the need for investment in public transit infrastructure.
"I have to start by saying I'm very happy there is so much press attention and interest in transit," she said to laughter, "especially guesses about my own. But in the off-chance that you're not here for this important issue, and are here for some other reason, let me must say that I'm not going to speculate or address anything about the president-elect's coming administration, and I'm going to respect his process. And any inquiries should be directed to his transition team. Because I am here for what I think is one of the key issues that will have to be addressed by the incoming administration, and it's one that means a great deal to New York."
The speech was given to a crowd of about 175 who gathered for the fall conference of the New York Public Transit Association at the Holiday Inn in this Albany suburb. Clinton went on to call for investments in mass transit infrastructure as a new necessity like the Interstate Highway System when it was passed by President Dwight Eisenhower in 1956.
"That was the right investment for the 1950s; the right investment for the 21st century is mass transit," she said.
Clinton also expressed support for a federal effort to assist the Big Three auto makers.