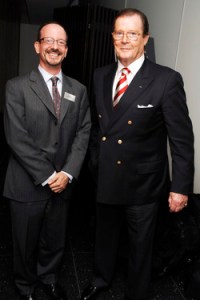 "You're lucky I don't have a chalkboard," said Steve Ross, receiving nervous laughter from the well-dressed crowd of authors and editors at a celebration Wednesday evening of the first full list published by the Collins Publishing Group, the recently reorganized division of HarperCollins of which Mr. Ross is the president and publisher.
Mr. Ross, who is known to be garrulous when it comes to talking about his work, started the story of Collins at the beginning—which is to say, with the invention of the printing press in 1493. Some time later, he reached the end of the story, and turned his attention to the gravity of our moment. He said something about how the world had reached the dawn of a new day, and made a joke about growth. At one point he brought up The Christian and Civic Economy of Large Towns, the first book William Collins published when he founded the house in 1819, which inspired someone to shout from the back of the room, "Was it a bestseller?"
(This morning, News Corp. posted results for its first fiscal quarter of 2009. Profits at HarperCollins, which is part of the media conglomerate, fell from $36 million to just $3 million due to plummeting sales and increased costs.)
Mr. Ross introduced the heads of his four imprints to the room. They came to the stage in the manner of lieutenants reporting for duty. After that it was time to introduce the authors, two of whom were a pair of very handsome young twins named Logan and Noah. Another was a very tall woman dressed in all black named Tori Murden McClure who once rowed a boat across the Atlantic. Another still was Roger Moore, who played James Bond for 12 years and has recently completed a memoir called My Word Is My Bond.
"I could die, he's so adorable," whispered Collins executive editor Adam Bellow with delight as Mr. Moore, who is in his 80s, made his way to the front of the room. "I can't stand it!"
Mr. Bellow, who specializes in conservative non-fiction, later approached Mr. Moore and talked with him about his memoir.
"I never really wanted to write a book," Mr. Moore said. "I'm lazy. I was forced into it."
He enjoyed the process though, he said, once he got going. "I found it was easy to remember things that happened many years ago, even though I can't remember what I ate for breakfast yesterday," he said. "The human mind is an incredible contraption."
Then: "If you don't believe in God, you should sit down and try writing a book, because you will by the time you're done."
Mr. Bellow loved this. "What a wonderful thing to say," he said, prompting Mr. Moore to joke that his next book will be called I Believe in Jesus.
"Oh, do you think you'll write another book?" Mr. Bellow asked.
Mr. Moore said he probably wouldn't, because who really knows how much longer he will live.
Earlier, Mr. Bellow had been talking about the election, and one could be forgiven for thinking that he was secretly pleased with its results.
"I believe in taking turns," he said. "I'm glad it was decisive." All his friends, he added, are liberals anyway. "I live in New York!" he said, by way of apology.
Mr. Bellow—who is the son of novelist Saul—is still a conservative, though, and describes his mission in book publishing as "[taking] the conservative intellectual movement back to higher ground."
This is according to his bio, which was included in a glossy, full-color pamphlet about the Collins group that was given to guests last night in a gift-bag along with some books. Mr. Bellow's bio also includes an assurance to literary agents that he is "not the scary kind of conservative but a native Upper West Sider who shops at Zabar's, collects and plays vintage guitars, and includes Tocqueville's Democracy in America" as one of his desert island books.
"As a conservative editor, being the opposition can be very energizing," Mr. Bellow said to his Collins colleague Bill Strachan. He said he was excited about the Obama presidency because it would mean conservative intellectuals would have a chance to reclaim control of the party's direction.
"During this recent period when Republican politics was in its ascendancy, the intellectuals were brushed aside," Mr. Bellow said. "The political class rose to power on the strength of the ideas generated by the intellectual right, and then said 'Thanks, we'll take it from here. Go back to your think tanks.' Now, the intellectuals are going to be important again. So for me, I look forward to a fecund period of intellectual rethinking."
Mr. Strachan, a veteran of the industry whose title at Collins is editor-at-large, said he was feeling good too, despite all the circumstances.
"I think it's a really exciting time for publishing," he said. "I really do. Not for me, necessarily, but, you know."