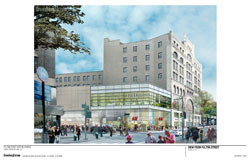 Stylish and poorly financed Brooklynites, rejoice! Swedish retailer H&M has officially signed a 15-year lease at Al Laboz's 497 Fulton Street, in the Fulton Mall.
The sizable, 29,600-square-foot store, between Hoyt and Bridge streets, will be H&M's first street location in the outer borough, and Brooklyn's second location (the other is in the Kings Plaza mall). "H&M's commitment is a testament to Downtown Brooklyn's resurgence," Mr. Laboz, who's also chairman of the Fulton Street Mall Improvement Association, said in a statement.
Cushman & Wakefield's Robert Gibson, Thomas Citron and Molly Beal represented H&M in the transaction.
Sadly, thanks to a planned reconstruction of the building, H&M won't open its doors until the end of 2010.
drubinstein@observer.com