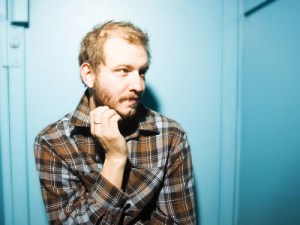 Bon Iver can't seem to get enough of New York… though you could probably say that about him and any major U.S. city these days. Justin Vernon—the Wisconsin-based singer-songwriter who goes by Bon Iver (pronounced "bohn eevair")—has been touring nearly non-stop this year since the realease of his haunting debut, For Emma, Forever Ago, in February. He's spent a good portion of that time right here in our fair city, where Vernon seems stuck in an endless loop around the Bowery Ballroom, the Music Hall of Williamsburg, and Town Hall (where he has two sold-out shows scheduled next month).
If you haven't caught Bon Iver's chilly folk already this year, you might have another chance when the singer returns to the Music Hall of Williamsburg on December 12. We say "might" because tickets sold out almost immeidately after they went on sale yesterday at noon. Though, considering how many times Vernon's passed through NYC lately, we're sure you can find a reliable soul on Craigslist to sell you a ticket or two.
If Bon Iver brings to mind snow-days and lonely winter cabins, then Brightblack Morning Light's psychedelic soul is the perfect soundtrack for a walk through the mid-afternoon haze of a southwestern desert. Which is appropriate, considering the band's hippie masterminds, Rachael Hughes and Nathan Shineywater, live in an adobe home they built out in New Mexico that runs entirely on solar power. Their music, evidenced most recently on this year's Motion to Rejoin, is a blissfully narcotic mix of Bitches Brew Miles Davis and Spiritualized—the perfect thing to warm your cockles as winter slowly sets in. Tickets for their shows at Le Poussin Rouge on Monday, November 17 and Southpaw the following night are avaible now.
Bowery Presents recently reopened New Jersey's refurbished Wellmont Theatre—the concert promoters' first venue outside New York, and their first to consistently offer acts that might appeal to those outside the familiar skinny jeans and Converse set. Yes, Wolf Parade is playing tomorrow night, but then Steely Dan—the quintessential dad-rock band—takes the stage next week. The group (named after a dildo in William Burroughs' Naked Lunch) certainly has its haters, but few have managed to combine untouchable chops with stoned charm—the most important personality traits for any 70s band that isn't punk—with such wit and ease. Led by original members Donald Fagen and Walter Becker, Steely Dan plays the Wellmont on Monday and Tuesday night. [Tickets on sale now]
And, of course, there's always AC/DC. The Aussie juggernauts play the second of two shows at Madison Square Garden tonight. [Tickets on sale now]
THEATER
David Mamet's beloved American Buffalo—now 33 years old—returns to Broadway for the first time since 1984. John Leguizamo plays Teach—a role made famous by Al Pacino, Robert Duvall, and William H. Macy—while Cedric the Entertainer plays Don and Haley Joel Osment (all gown up from his Oscar-nominated performance in The Sixth Sense) takes a turn as Bob. American Buffalo follows the three friends as they hang out in a Chicago pawnshop and plot to steal a rare buffalo nickel. Fans of Mamet's infamously ambiguous dialogue, otherwise known as Mametspeak (Don: "Lookit, Sir, if I could get ahold of some of the stuff you were interested in, would you be interested in some of it?"), will not be disappointed. American Buffalo opens at the Belasco Theater on Monday, November 17. [Tickets on sale now]