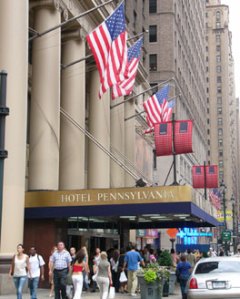 One-time demolition target Hotel Pennsylvania continues to line landlord Steve Roth's pockets, giving him even more reason to hang on to the old McKim, Mead & White-designed lodge. Quarterly figures released this week by Mr. Roth's Vornado Realty Trust show the historic hotel generating even more revenue than last year — a total of nearly $30 million so far through the first nine months of 2008.
That's about $5 million more than it made over the same timeframe in 2007, when the hotel ultimately netted $37.9 million.
At this rate, the old Glenn Miller hangout could surpass the $45 million mark in 2008, though declining demand might lessen the final tally.
Daily rates at Hotel Pennsylvania presently start at $219 — that's $30 cheaper than in August. Rates are generally more expensive in November, which is traditionally peak travel season in New York City.