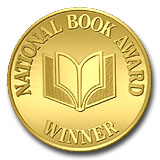 Twenty authors attended Wednesday night's National Book Awards ceremony as finalists, each of them selected by a committee of readers made up of poets, novelists, historians, and critics of all stripes. The judges on each of the four committees spent three and a half months reading over a hundred books (the non-fiction judges read 530) before settling on their short-lists last month.
The New York Times reported on the finalists here in a 400-word item that ran in the Arts section. In the case of several of the authors, it was the first time in years that their names had appeared there.
Which is to say that between the two of them, Michiko Kakutani and Janet Maslin, the Times' primary daily book critics, reviewed precisely two of the 20 books—Marilynne Robinson's Home and Jim Sheeler's Final Salute, respectively—that were up for NBAs this year.
Some caveats, to be fair: 1) 10 of those 20 were poetry and children's books, which never get reviewed in the daily, 2) all but two of the fiction and non-fiction finalists were reviewed in The Sunday Book Review, 3) Jane Mayer was reviewed in the daily by Jennifer Schuessler, and 4) though there was no review, Times culture reporter Patricia Cohen did write a feature about Annette Gordon-Reed's The Hemingses of Monticello (which won the non-fiction prize) that ran in the daily Arts section.
But, you know, still!
Katherin Bouton, who became the culture desk's books editor last month, declined to comment because she is too new on the job, and her predecessor, Rick Liman, did not return calls seeking comment.