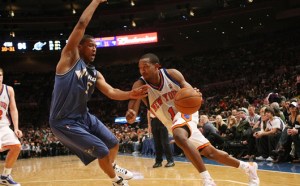 In one day Friday, the New York Knicks traded away their two best scoring options, getting very little in return, and making it likely that watching New York for much of the next two seasons will be futile at best and disheartening at worst.
Knicks fans couldn't have asked for anything more.
By dealing forward Zach Randolph, guards Jamal Crawford and Mardy Collins for mediocrities Tim Thomas, Cuttino Mobley and Al Harrington, New York did more than simply enter the LeBron James free agent sweepstakes, which takes place following the 2009-10 season. The franchise made it clear that the sweeping rebuilding job necessitated by the disastrous reigns of general managers Scott Layden and Isiah Thomas and promised by new head man Donnie Walsh was proceeding, despite a misleading 6-5 start.
Let's quickly dismiss the trade from a pure personnel perspective. Al Harrington is a decent player, who overlaps David Lee in a large number of areas—plus, Lee is many times the rebounder Al Harrington will ever be. Tim Thomas is an intermittently interested player whose talent has never been enough to let him excel at the NBA level. And Cuttino Mobley is an undersized guard whose best days are likely behind him.
But as has been noted nearly everywhere, including by the Knicks themselves, all three players have contracts that expire following the 2009-10 season—a year ahead of both Crawford and Randolph, and the same offseason that James and several other marquee free agents become available.
Without question, adding LeBron James, who coincidentally will take the floor Tuesday in the same game that the three new additions make their Knicks debut, would fundamentally change basketball in New York. James will be just 25 in the summer of 2010, and has been by practically any measure the best player in the league. Not only would signing with New York provide James with an increase in his endorsement deals, it would provide him with the opportunity to return basketball to prominence on the nation's biggest stage.
But it will be difficult for the Knicks to provide a surrounding cast to entice James between now and then. A team that hadn't been criminally mismanaged would enjoy lottery picks in 2009 and 2010 to help build around James—but Isiah Thomas not only included the choice of his first-round pick in 2009 or 2010 in the deal for Stephon Marbury, he didn't protect New York with the standard league caveat that should the pick be in the lottery, the Knicks keep it. Thus, what is likely to be an awful 2009-10 Knicks team gets to see Utah reap the benefits of their futility.
And still, even if James decides to go elsewhere, the Knicks made the unquestionably correct choice. The summer of 2009-10 offers a number of enticing free agents, from Toronto center Chris Bosh to Miami's DeWayne Wade, Phoenix's Amare Stoudamire and many others. The Knicks, by unloading Randolph and Crawford, have put themselves in position to sign not one, but two of these players, especially if they find a taker for Eddy Curry's Eddy Curry-sized contract and decline to renew Nate Robinson, who has too many deficiencies to be worth a long-term commitment.
Even if none of these players sign with the Knicks, the team will still have wide-open salary cap room, another draft pick in 2011, and the flexibility to make trades that aren't simply dealing bad contracts for worse ones.
Most encouraging of all is that Friday's trades indicate the Knicks will do everything in their power to follow the long-term rebuild that New York has needed for ten years. The team's 6-5 start could have provided the Knicks with incentive to keep the current roster together, even though the long-term potential of the group was nonexistent. Previous regimes have rewarded such fleeting glimpses of hope, giving coach Lenny Wilkens a three-year deal just after being fired by Toronto, and most incredibly, giving Isiah Thomas a four-year extension in the midst of his reign of terror.
But instead of taking the fool's gold as progress this time around, the Knicks continued building toward purging the mistakes of the recent past as quickly as possible. As strange as it sounds, given both the NBA salary cap and the dead ends on the current team, getting to a point where virtually nobody is under contract at all as quickly as possible is the best the Knicks can do.