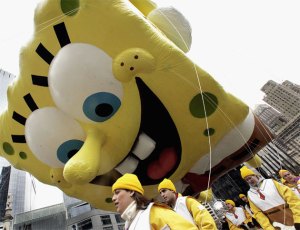 Will you be spending Thanksgiving online? Maybe you prefer some social-networking to spending so-called quality time with your crazy family. Or perhaps you're just too much of an Internet addict to give it up for a few days.
Here are some resources for you to give thanks on the Web this Turkey Day.
Macy's Thanksgiving Day Parade site – Get all of your info. about the most famous Thanksgiving Day parade. Here you can find a preview of the balloons and floats. You can download a widget and get up-to-the-minute updates on parade happenings and events. You can even get a Facebook application and upload all your videos and photos from the big day.
Martha Stewart's Thanksgiving – Love her or hate her, the food is pretty good and her Web site is excellent for recipes and how-tos. Check out how to deep-fry a turkey and make homemade ginger beer, or figure out what to do with all those leftovers.
Hulu Thanksgiving – Video recipes from the Food Network and HGTV chefs. Uh, we're totally making Paula Deen's Pumpkin Gingerbread Trifle.
Black Friday's Online Deals – Forget rushing around the city to get those holiday discounts. Shop in your pajamas at home. Forbes outlines the post-Thanksgiving cyber deals.
MyOpen Bar Thanksgiving – Need a free drink? Meet other Thanksgiving Orphans at happy hour.
iPhone's Turkeynizer – Mashable points us to iPhone's Thanksgiving Turkeynizer, which lets you put a picture of you or your friends' heads on a dancing turkey cartoon. Hey, it's just some fun stuff.
Volunteer – Mayor Bloomberg has a resource for finding a soup kitchen or dinner delivery service that will need help on Thanksgiving Day. Or you can give back to school programs at DonorsChoose.org.
We looked for our favorite Thanksgiving Day movies like A Charlie Brown Thanksgiving, Addams Family Values, and Planes, Trains and Automobiles, but none of them are available online. You can find plenty of other shows on Hulu or Netflix though.